These Fluffy Japanese Soufflé Pancakes are like eating cottony clouds, but even better with homemade whipped cream and fresh berries! Read my best tips in this recipe and learn how to make them perfectly.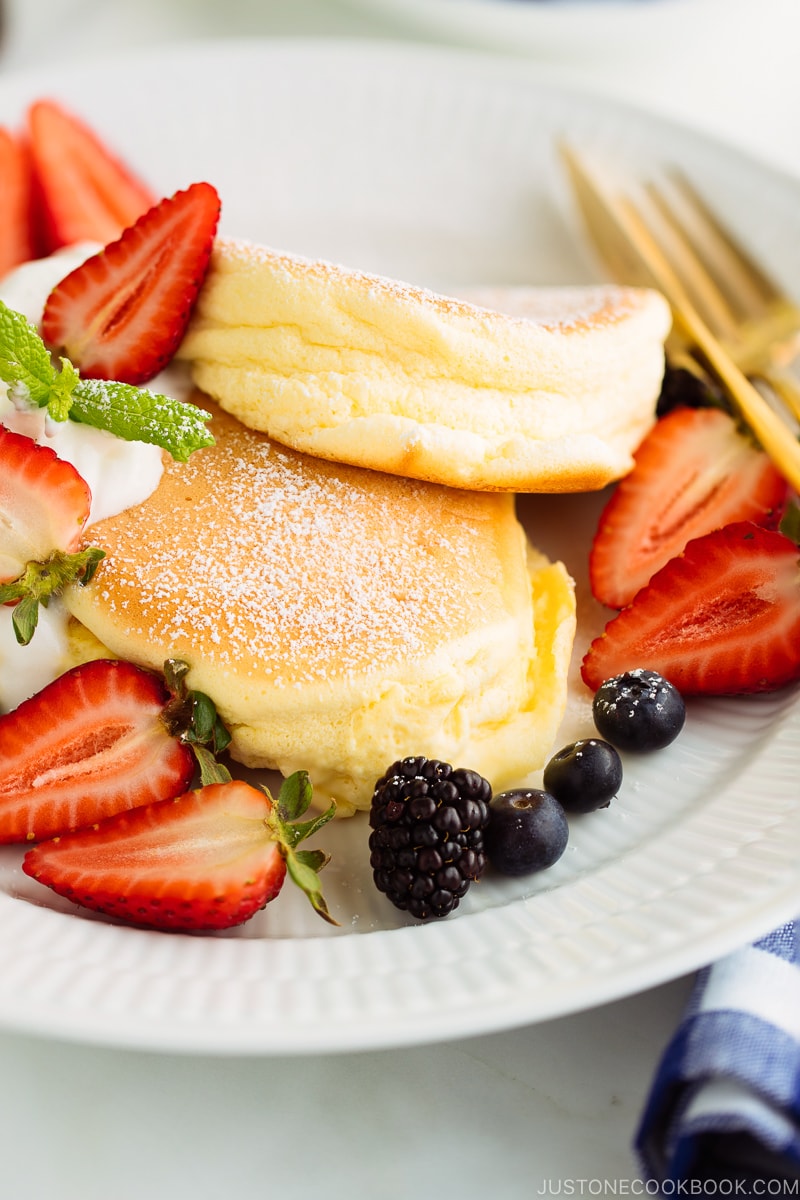 The Japanese take pancakes to new heights. Think cottony clouds of heaven that melt in your mouth! Have you seen Fluffy Japanese Soufflé Pancakes (スフレパンケーキ) on social media? Or maybe you have even tasted them when you visited Japan?
They are fluffy, airy, delicate pancakes that probably look too fancy for a weekday breakfast, but are impossible to resist making on the weekend. These pillowy, soft pancakes are a must-try. You can't miss the fizzy, bubbly sound from the soufflé pancakes when you cut them open to enjoy!
What are Fluffy Japanese Soufflé Pancakes?
The ingredients for soufflé pancakes are similar to regular pancakes, so what makes them different? What makes soufflé pancakes so pillowy soft and delicious?
Soufflé pancakes are all about eggs. Egg yolks and egg whites are separated, and the whites are beaten to make the meringue. Just like you would with savory and sweet soufflé or chiffon cakes.
The egg whites are beaten until stiff peaks form and then folded gently and carefully into the rest of the batter. The soufflé pancakes are extra fluffy because the air bubbles hold their shape inside the pancake batter.
As a result, the pancakes are super airy, like soufflé. When you cut the pancakes, you can even hear the sound of air bubbles escaping!
Enjoy these soufflé pancakes the same way you do with standard flapjacks, with fresh whipped cream, some fruits, syrups, and toppings like chocolate chips and nuts.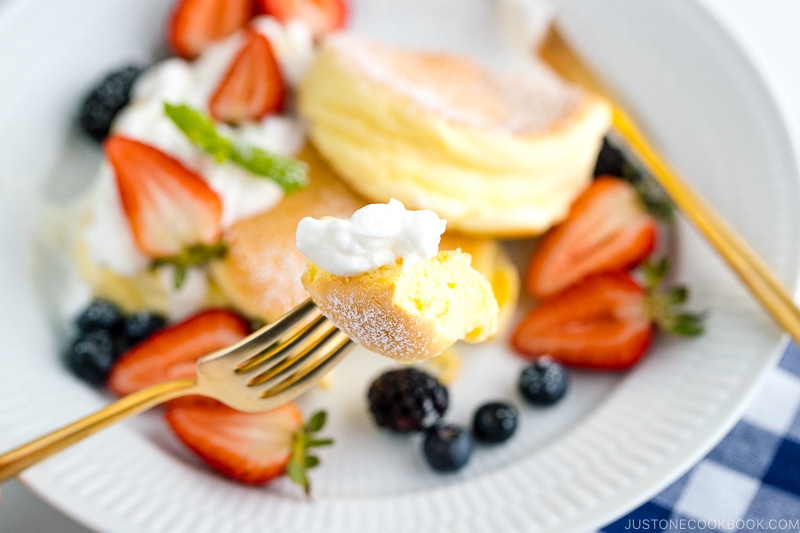 Recent Pancake Craze in Japan
Pancakes are comfort food. The happiest comfort food. I'm sure you have many joyful memories of waking up on a Saturday, looking up at a stack of pancakes on your plate. And now as an adult, you are probably like me, always searching and trying different pancake recipes, happily eating your way on a journey to find the perfect pancake.
In Japan, even the simplest of comfort foods like pancakes are taken very seriously. In recent years, Japan's pastry shops and cafes have been in a race to make the fluffiest, softest pancakes. And by 2016, the pancake craze in Japan was in full swing with pancake shops opening all over the country competing for the best soufflé pancakes. Here are some of the most famous:
Kiln-baked Soufflé Pancakes (窯焼きスフレパンケーキ) at Hoshino Coffee (picture above)
Miracle Pancakes (奇跡のパンケーキ) at Flippers
Happy Pancake (幸せのパンケーキ) at A Happy Pancake
These pancake shops did not exist when I was growing up. If they did, I would have been there on every special occasion and birthday! I'm making up for the lost time by creating these soufflé pancakes every chance I get.

5 Important Tips to Make Fluffy Japanese Soufflé Pancakes
Here are some of my personal tips that helped me achieve the perfect soufflé pancakes.
1. Beat the egg whites (meringue) correctly.
To be honest, making meringue requires a lot of practice. Some trials and errors are just part of the process, but I promise it does get easy once you have more experience and understand what it takes to reach the right consistency.
We're looking for a stiff peak with a tip that folds over. When you lift up your whisk, the egg whites go straight up firmly, but the very tip of the egg whites fold over, like taking a bow. If you overbeat egg whites, they will break into pieces. If you under-beat, egg whites don't have enough air bubbles and the pancakes won't be fluffy.
2. Preheat the nonstick frying pan on the lowest setting for a longer time.
Even heating is crucial for the pancakes to cook through all at once. You want to preheat your nonstick frying pan at the lowest heat to help prevent hot spots (meaning some part of the pan is lower in heat, and the other part is too hot). This way you have full control over the cooking time and the final result.
3. Pile the batter vertically (high).
The key to making lofty pancakes is to add a new pile over the batter on the pan after it starts to form.
4. Cook slowly, covered with a lid, on low heat.
Unlike regular pancakes, you will need to cook these thick & fluffy Japanese pancakes for a much longer time. If you use higher heat, the pancakes may look done, but the inside will be too raw. Therefore, steady slow cooking over low heat is necessary. To lock in the heat and moisture inside the pan, cover with a lid.
5. Add water to create a little bit of steam.
I've tried without adding water before and the difference can be subtle. But since it doesn't take much to add water, I include this step in my recipe. Just drop 1 tablespoon of water to empty spaces in the frying pan to add moisture to the pan.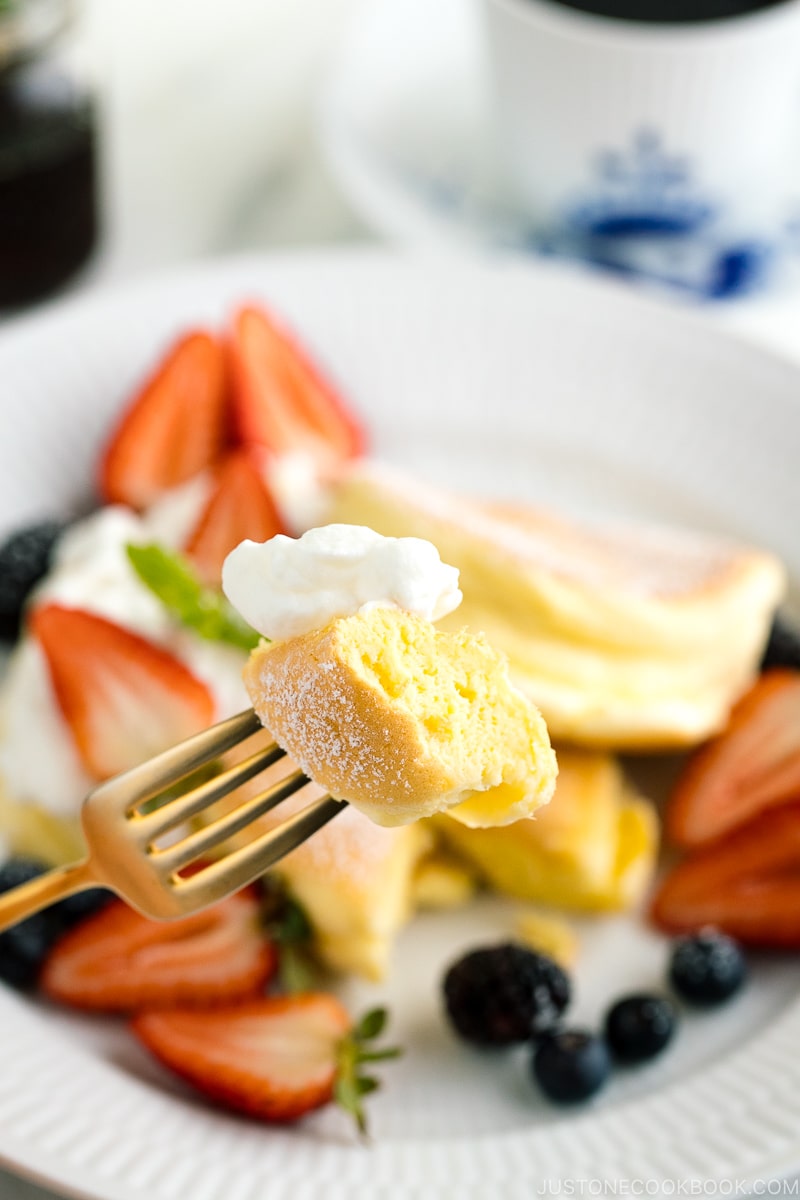 Why Does My Soufflé Pancake Deflate? Trouble Shooting
When making soufflé pancakes, one of the common situations people run into is that the pancakes tend to deflate after cooking. Now, is that normal? No, a souffle, including souffle pancakes, should still stand tall after you place them on the plate.
What goes wrong? What can you do to stop your soufflé from collapsing?
1) You have probably under or overbeaten the egg whites. The goal is to create air bubbles in the batter that will give structure to the pancake. Without them, the pancake will deflate.
2) Stove heat was too strong. Just because the pancake is nicely brown, it doesn't mean it's done. The inside of the pancakes may still not be cooked through and if you move them out of the pan earlier, the air deflates. Properly cooked soufflé pancakes will have a solid structure and height. They will hold for 10-15 minutes as long as they are warm (just like hot air balloons).
How to Make More than 3 Pancakes at A Time?
To make two or more servings, you will need multiple non-stick frying pans on the stove. Alternatively, you can purchase an electric griddle with a lid like this.
At the soufflé pancake restaurants in Japan, they use multiple electric griddles with a lid to make pancakes. The staff would usually tell you the souffle pancakes will take at least 20 minutes to make.
These souffle pancakes definitely require extra time and effort, but I promise after that first bite, you will know it was all worth it. Give this unforgettable soufflé pancake recipe a try on the next special occasion!
I also have a Matcha Soufflé Pancake recipe that I think you'll going to love! The brilliant green hue and extra flavor boost from matcha make the pancakes even more irresistible.
More Delicious Breakfast Recipes You'll Like: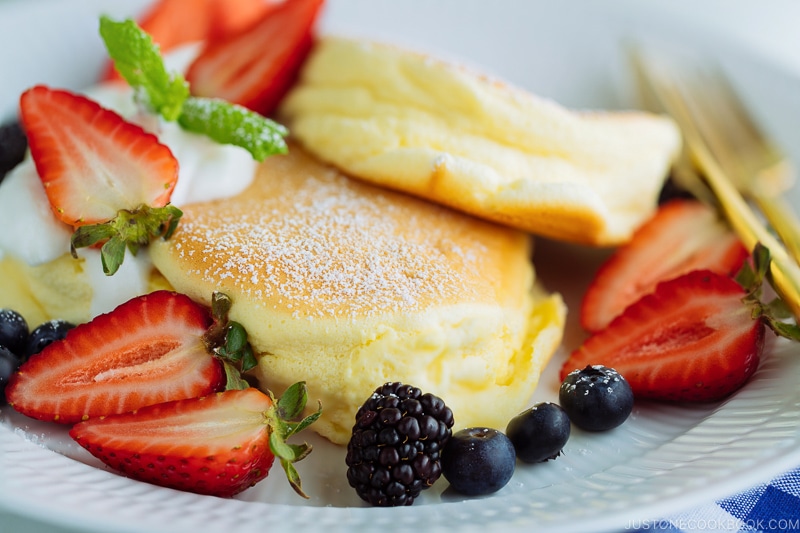 Wish to learn more about Japanese cooking? Sign up for our free newsletter to receive cooking tips & recipe updates! And stay in touch with me on Facebook, Pinterest, YouTube, and Instagram.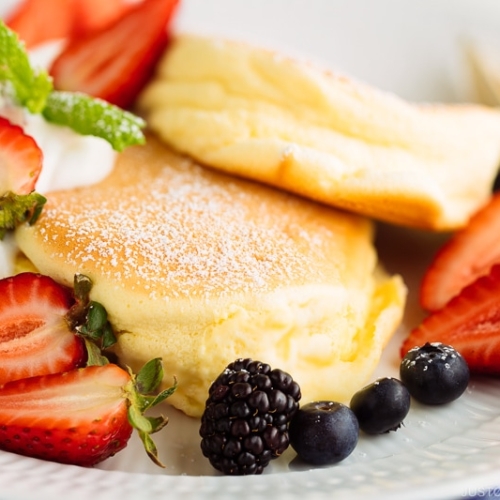 Fluffy Japanese Soufflé Pancakes
These Fluffy Japanese Soufflé Pancakes are like eating cottony clouds! The delicate, melt-in-your-mouth pancakes are even better with homemade whipped cream and fresh berries. Learn how to make them perfectly airy and pillowy soft with my best tips.
Video
Servings:
3
pancakes (1 serving)
Ingredients
2

large eggs (50 g each w/o shell)

1½

Tbsp

whole milk

(I haven't tried reduced-fat, low-fat, nonfat, or plant-based milk for this recipe as I believe the batter will be too thin to make souffle pancakes)

¼

tsp

pure vanilla extract

¼

cup

cake flour (weigh your flour or use the "fluff and sprinkle" method and level it off; you can make homemade cake flour)

½

tsp

baking powder

2

Tbsp

sugar

1

Tbsp

neutral oil

(for greasing the pan)

2

Tbsp

water

(for steaming)
For the Fresh Whipped Cream (optional)
½

cup

heavy (whipping) cream

1½

Tbsp

sugar

(add more if you like it sweeter)
For the Toppings
1

Tbsp

confectioners' sugar

fresh berries

(strawberries, blueberries, etc.)

maple syrup
Japanese Ingredient Substitution:
If you want substitutes for Japanese condiments and ingredients, click
here
.
Instructions
Gather all the ingredients. I highly encourage you to use metric measurements using a kitchen scale for this recipe. Click on the "Metric" button at the top of the recipe to convert the ingredient measurements to metric. You will also need a 12-inch nonstick frying pan (large enough to cook 3 pancakes at the same time) with a lid. It's also nice to have an infrared thermometer gun to check the temperature of the frying pan.
To Make the Fresh Whipped Cream (optional)
If you'd like to serve the Fluffy Japanese Soufflé Pancakes with optional fresh whipped cream, make it now. First, prepare an ice bath: Put ice cubes and water in a large bowl and place a clean and dry medium bowl on top of the ice water. Add

½ cup heavy (whipping) cream

and

1½ Tbsp sugar

to the medium bowl to keep them cold.

Whisk on high speed until medium to firm peaks form. The cream should not be runny but soft, fluffy, and firm instead. Keep the whipped cream chilled until you're ready to serve the pancakes.
To Mix the Batter
Separate

2 large eggs (50 g each w/o shell)

into whites and yolks in two different bowls. Put the bowl with the egg whites in the freezer for 15 minutes. Why do we partially freeze the egg whites? Please read why in my post 2 Tips to Make Perfect Meringue (Egg Whites).

In the meantime, add

1½ Tbsp whole milk

and

¼ tsp pure vanilla extract

to the egg yolks and whisk using a hand whisk until thick and frothy.

Sift

¼ cup cake flour

and

½ tsp baking powder

into the bowl.

Whisk to combine thoroughly; do not overmix. Set aside while you make the meringue.
To Make the Meringue
After 15 minutes, take out the bowl with the egg whites from the freezer. The egg whites should be half frozen. Now, start beating the egg whites with a hand mixer (you can also use a stand mixer or balloon whisk).

When the egg whites turn frothy and opaque, gradually add in

2 Tbsp sugar

, roughly one-third of it at a time. Then, increase the mixer speed to high (Speed 10) and beat vigorously until stiff peaks form (see the next step for how to check). It takes about 2 minutes of beating at high speed to reach stiff peaks. Tip: When using a stand mixer, I usually pause beating when the meringue is almost done. Take off the whisk attachment from the mixer and use it to hand-mix the looser egg whites near the bowl's edge into the stiffer whites near the center until it's all homogenous in texture. Then, put the whisk back on and continue beating.

To check for stiff peaks, stop whisking and pull up your beaters or whisk. The meringue in the bowl or on the whisk should be firm enough to hold a peak, pointing straight up (or maybe folding over a little bit just at the very tips). By this time, the meringue should have a glossy texture, too. Tip: If you overbeat the meringue, it will become very stiff and grainy and won't incorporate into the batter at all.

Heat a large nonstick frying pan to 300ºF (150ºC) over the lowest heat. Brush with

1 Tbsp neutral oil

and lightly remove any visible oil with a paper towel (otherwise the pancakes will have a spotty pattern). Keep the pan on low heat while you fold in the egg white meringue into the egg yolk mixture in the next step.
To Fold In the Meringue
Take one-third of the egg white meringue and add to the egg yolk mixture. Whisk together by hand (don't worry too much about breaking air bubbles at this point).

Next, take half of the remaining meringue and add to the egg yolk mixture. Using a hand whisk, gently fold them in without breaking the air bubbles in the egg whites. Why do we use a whisk instead of a silicone spatula? Please read my post 2 Tips to Make Perfect Meringue (Egg Whites).

Now, transfer the egg yolk mixture back into the bowl with the remaining meringue. Very gently fold the two mixtures together, taking care not to deflate the air bubbles in the meringue and batter as you fold. Mix the batter very gently until well combined and homogenous.
To Cook the Pancakes
Keep your nonstick frying pan heated to 300ºF (150ºC) at all times over low heat. Remember, each pancake gets roughly four small scoops of batter, and you will be making three pancakes. For the first pancake, place one scoop of batter and make a tall mound in the frying pan, using a small ladle or a serving spoon (that's bigger than a regular spoon—probably 2–3 Tbsp). Next, stack one more scoop of batter onto the first scoop already in the pan. Repeat for the next two pancakes, giving each pancake two scoops of batter.

By the time all three pancakes have two scoops, the surface of the batter is slightly dry already. At this point, you can mound one more scoop on top of each pancake, keeping the batter piled up high. In the bowl, you should still have roughly three scoops left (if you have slightly more, that's okay).

Set the timer for 6–7 minutes and add 1 Tbsp of the

2 Tbsp water

in three empty spaces inside the pan. Cover with a lid. The steam from the water keeps the pancakes moist while they cook. Please note: The suggested time is just a guideline; how long you will cook the pancakes is based on the temperature of your frying pan.

After 2 minutes have passed, open the lid, and add one final scoop of batter to each pancake (or more scoops if you have more batter). Make sure to stack the batter high, not wide. If the water has evaporated, add a little bit more. Cover with the lid and cook.

After 6–7 minutes have passed, lift the pancake VERY GENTLY using an offset spatula. If the pancake is stuck, don't touch it until it firms up a little. If you force it, the pancake will crack in the middle. When the pancake is ready, you can easily move the pancake. Repeat with the other pancakes.

Here is another set of images to show the process. Slightly pull the pancake to create an empty space and gently flip it over with a "rolling over" motion.

Add another 1 Tbsp water to the empty spaces in the pan and cover. Set the timer for 4–5 minutes to cook the other side on the lowest heat setting.

Once they are nicely browned, transfer the pancakes to your serving plates. 
To Serve
Place the optional fresh whipped cream on the pancakes and top with

fresh berries

. Dust your Fluffy Japanese Soufflé Pancakes with

1 Tbsp confectioners' sugar

and drizzle with

maple syrup

. Enjoy!
To Store
For the fluffiest texture, I recommend making these soufflé pancakes just before serving. If you have leftovers, transfer them to an airtight container and store in the refrigerator for up to 2 days.
Notes
How to Prevent Your Soufflé Pancakes from Collapsing:
Soufflé pancakes can be tricky to make (probably not easy for a beginner cook), so make sure to read my tips in the post thoroughly before you start cooking.
Beat your egg whites correctly. Underbeating or overbeating will cause the pancakes to deflate after cooking.
Cook over low heat, and make sure the insides of the pancakes are properly cooked through. 

If the inside is not cooked through, there is no structure to hold up the pancakes and they will collapse as soon as the temperature drops.
Nutrition
Nutrition Facts
Fluffy Japanese Soufflé Pancakes
Amount per Serving
% Daily Value*
* Percent Daily Values are based on a 2000 calorie diet.
©JustOneCookbook.com Content and photographs are copyright protected. Sharing of this recipe is both encouraged and appreciated. Copying and/or pasting full recipes to any website or social media is strictly prohibited. Please view my photo use policy
here
.