Yakisoba is a classic Japanese stir-fried noodle dish that's seasoned with a sweet and savory sauce similar to Worcestershire sauce. Use any proteins you like—pork, chicken, shrimp, or calamari. For vegetarians, just swap it with tofu or shiitake mushrooms.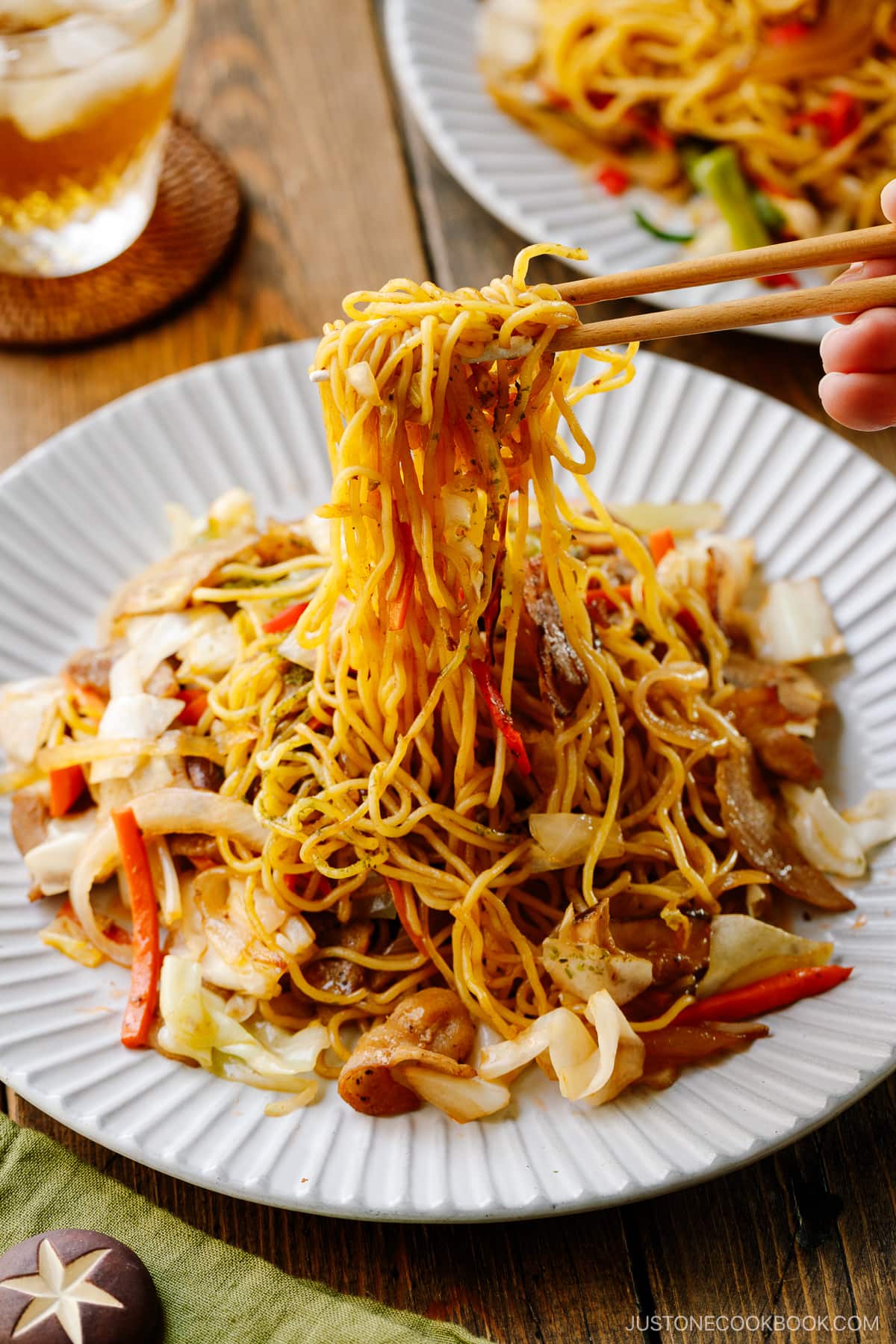 Growing up in Japan, yakisoba (Japanese stir-fried noodles) was a staple of our weekend lunches. My mom and I would prepare the ingredients, and everyone gathered around the electric griddle, and cooked the noodles together. There were so many memories surrounding the dish that I always associate yakisoba with weekend lunches.
You can easily make yakisoba at home, customizing it with ingredients like chicken, shrimp, calamari, to make it your style. Or try it with mushrooms or tofu for a simple vegetarian version!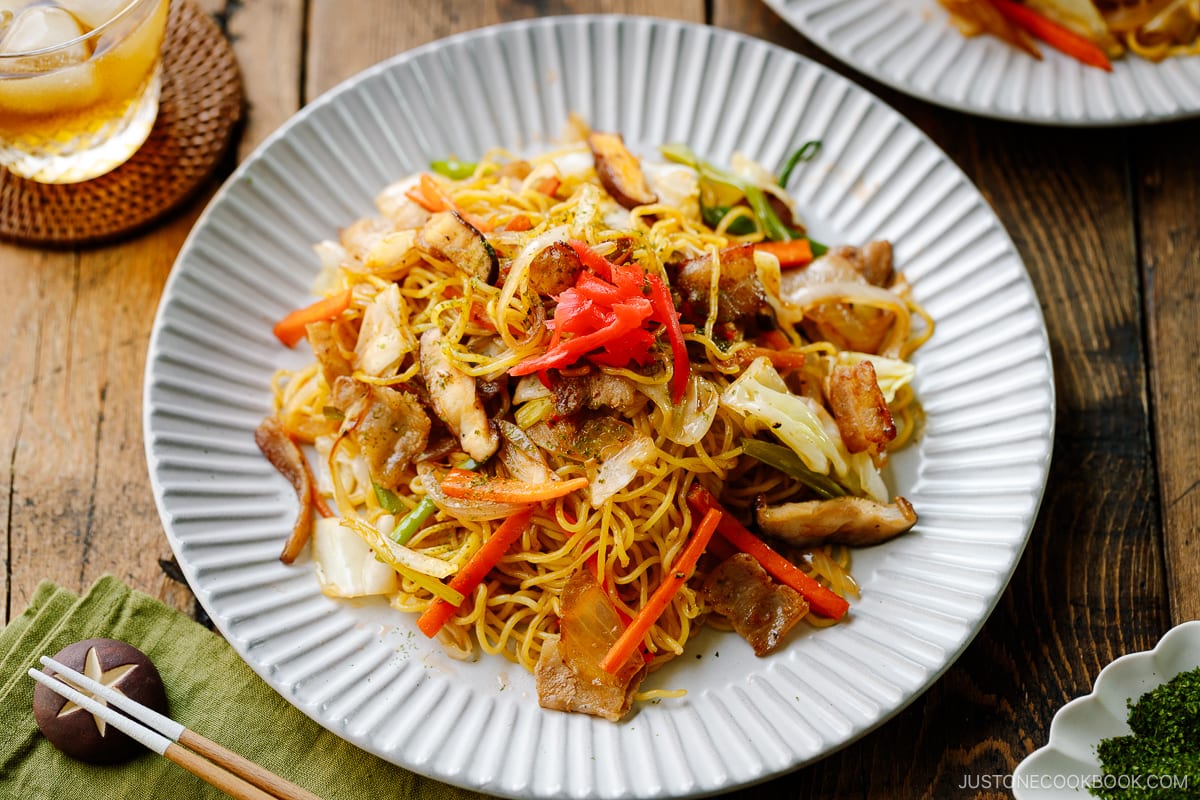 What is Yakisoba?
Yakisoba (焼きそば) is a stir-fried noodle dish that typically includes meat or seafood, as well as vegetables such as cabbage, carrots, onions, and bean sprouts. These ingredients are all cooked together in a thick, sweet-savory sauce, and the final dish is usually topped with aonori (dried green seaweed) and red pickled ginger for added flavor.
A Brief History
According to food history researcher Shogo Shiozaki, this popular street food originated in Asakusa during the Taisho era, where Chinese noodle factories were first established.
Interestingly, yakisoba was actually created as a clever variation of okonomiyaki, a Japanese savory pancake. If you examine both dishes closely, you'll notice similarities in the ingredients used, including meat/seafood, vegetables, and a British-style sauce! The key distinction is that yakisoba replaces the flour batter used in okonomiyaki with Chinese noodles. In fact, if you visit long-standing okonomiyaki restaurants in Tokyo, you'll often find yakisoba offered as part of their menu.
Yakisoba quickly gained popularity, especially among young children who loved its delicious fried noodles. Originally a staple of food stalls, it eventually became a common item at Teishoku-ya (Japanese diners) and even at candy stores known as dagashi-ya (駄菓子屋). Due to the ease of setting up an iron plate teppan (鉄板), yakisoba food stalls became popular at school events, festivals, fairs, and more. Today, yakisoba is considered an iconic Japanese street food.
In the US, you can commonly find yakisoba on the menus of Japanese grill teppanyaki restaurants or sold by street vendors at Japanese Obon festivals or cherry blossom festivals.
Is Yakisoba Made with Buckwheat Noodles?
As "soba" is a type of Japanese buckwheat noodles, a lot of people have asked me if yakisoba uses the same noodle.
To clarify, the word "soba" in Japanese is an umbrella term to describe noodles of any type, such as chuka soba for ramen and yakisoba in this instance.
Yakisoba does not use buckwheat soba noodles. Instead, it uses mushi chukamen (蒸し中華麺), which are steamed Chinese-style noodles made from wheat flour, kansui, and water. These noodles have a yellowish color due to the kansui but are not egg noodles. They share a texture similar to ramen noodles and are pre-steamed for quick reheating.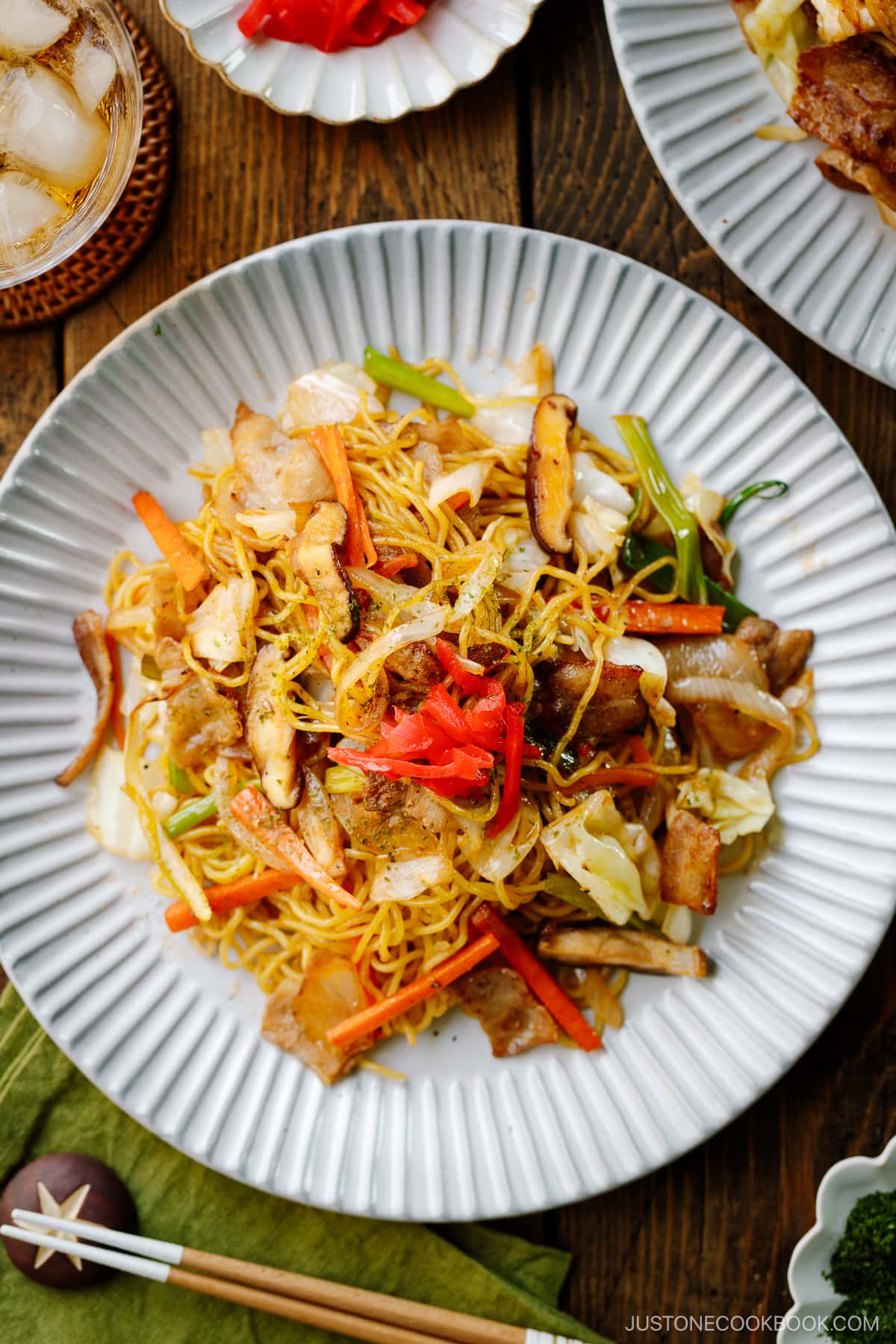 How to Make Yakisoba
The Ingredients You'll Need
Yakisoba noodles: These are Chinese-style noodles made with wheat flour (more information below).
Vegetables: I use thinly sliced yellow onion, green onion, julienned carrot, some sliced shiitake mushrooms, and chopped cabbage. These veggies work great for a stir-fry. You can also use bok choy or thin strips of bell pepper.
Protein(s): I use sliced pork belly in this recipe as it is the most common choice of meat to make yakisoba in Japan. However, you can switch it up with any protein like shrimp, calamari, chicken, and firm tofu.
Oil: Any neutral-tasting oil will work.
Yakisoba Sauce: Worcestershire sauce, oyster sauce (or vegetarian stir fry sauce), ketchup, soy sauce, and sugar. Adjust the amount to suit your taste.
Optional toppings: aonori (powdered green seaweed) and beni shoga (red pickled ginger). Some people also like to top the noodles with katsuobushi (shaved bonito flakes).
The Cooking Steps
Cut the ingredients into bite-size pieces.
Warm up the noodles and transfer them to a dish.
Cook the protein, followed by the tough vegetables, and then the soft vegetables.
Put back the noodles and season them with Yakisoba Sauce.
Toss them all together and serve.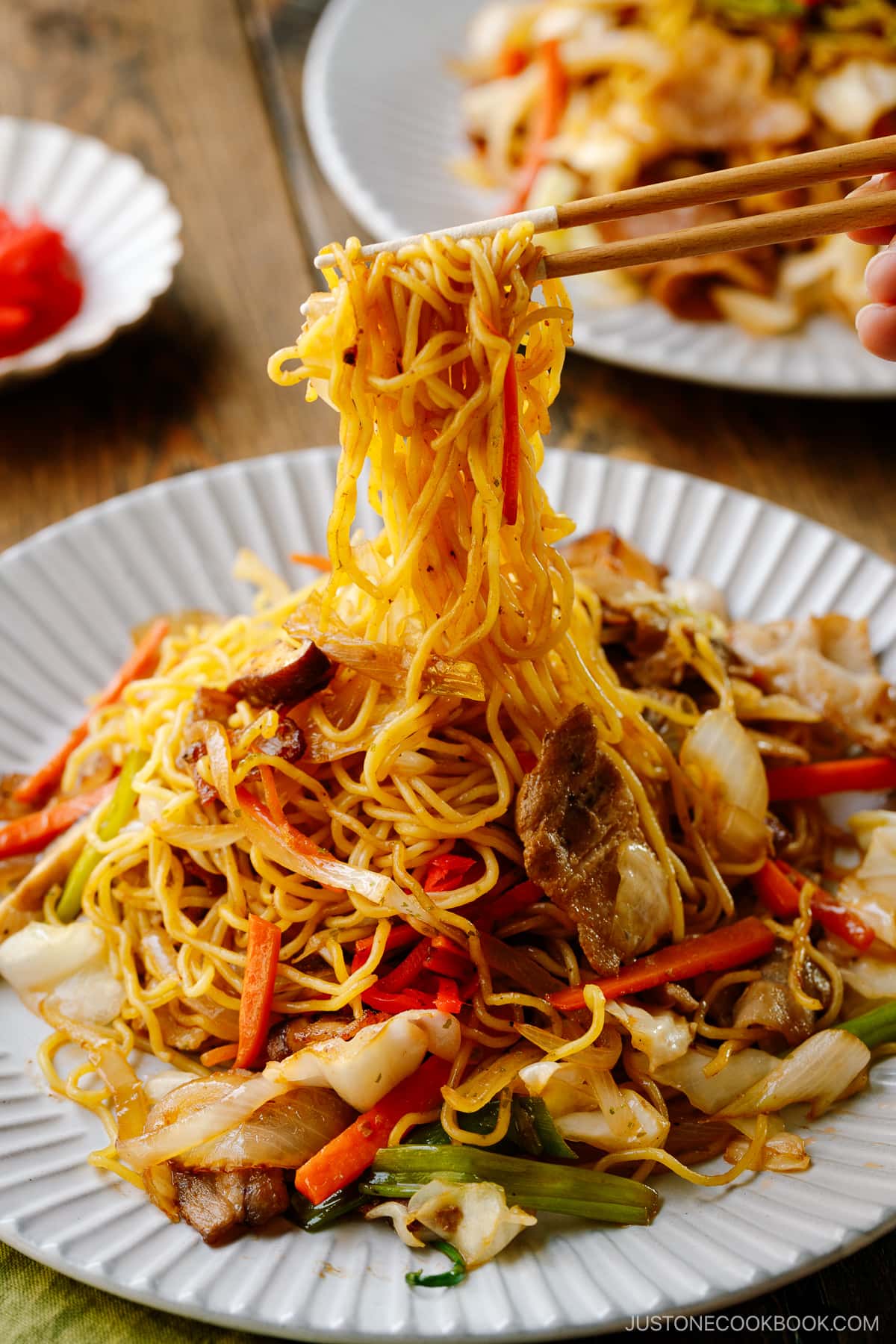 Ingredient Variations
My mom often changes up the ingredients when she makes yakisoba. In addition to pork belly slices, she sometimes uses Japanese sausages and ground pork, and my favorite is the combination of ground pork and squid/calamari. For extra crunch and fiber, she also throws in Chinese chives (nira in Japanese) and bean sprouts.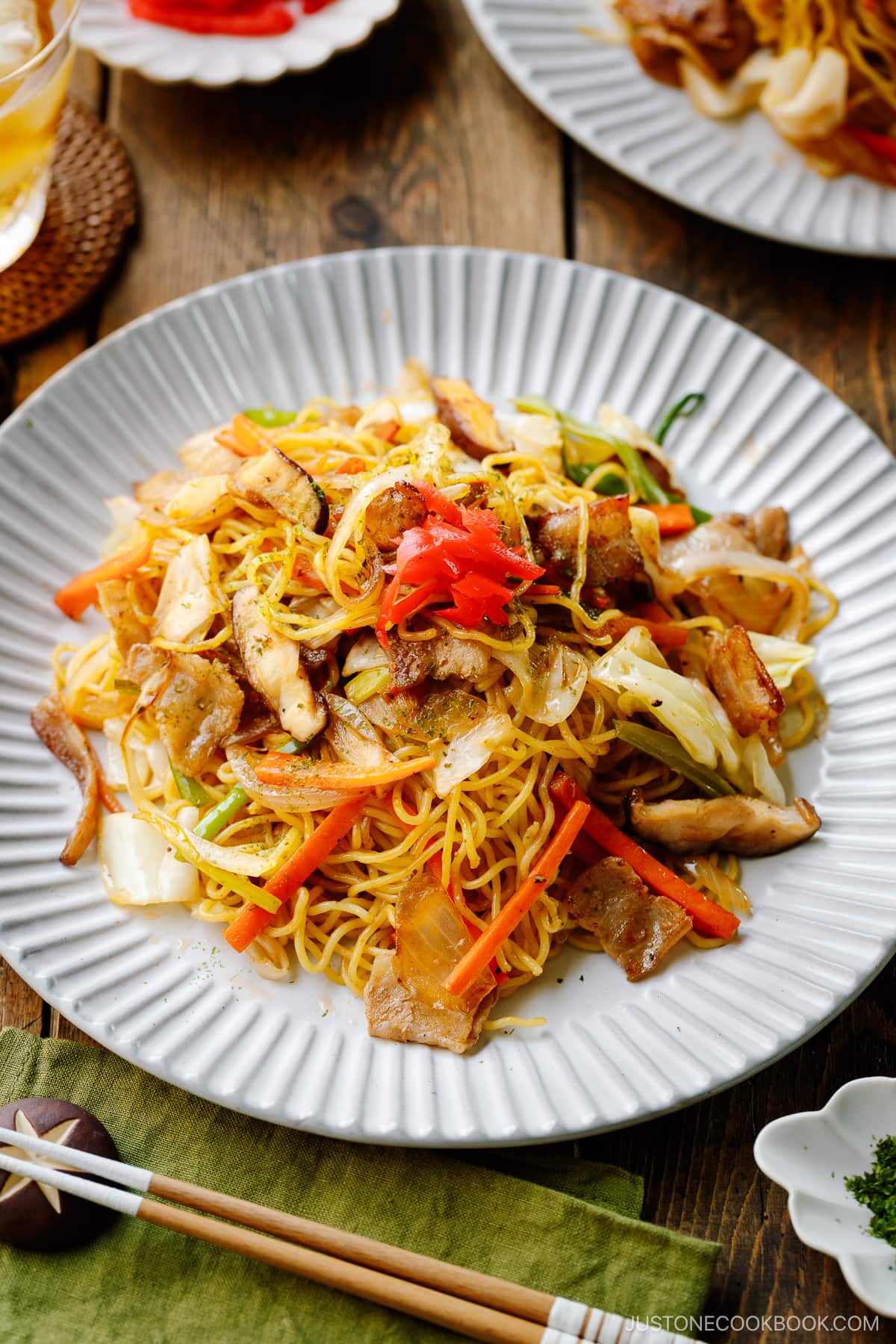 Where to Buy Yakisoba Noodles
The two popular yakisoba noodle brands are Myojo (明星) and Maruchan (マルちゃん), and each package comes with three packs of yakisoba noodles. The noodles are already steamed, coated with oil, and packed tightly in the packets.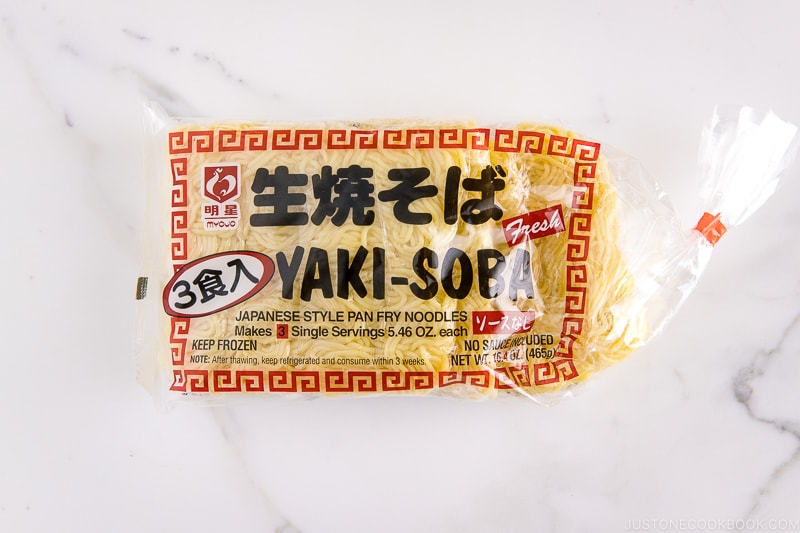 I recommend using the Myojo brand (see the picture above). Maruchan, if frozen, tends to break into pieces when defrosted. In Japan, yakisoba noodles are never sold frozen. However, these noodles don't last too long and they are often sold frozen outside of the US.
You can purchase them in Japanese, Korean, and Chinese grocery stores, and they are either in the refrigerated or freezer section.
How to Make Yakisoba Sauce
The popular Otafuku brand offers Yakisoba sauce (see below), but my family actually likes making yakisoba sauce from scratch.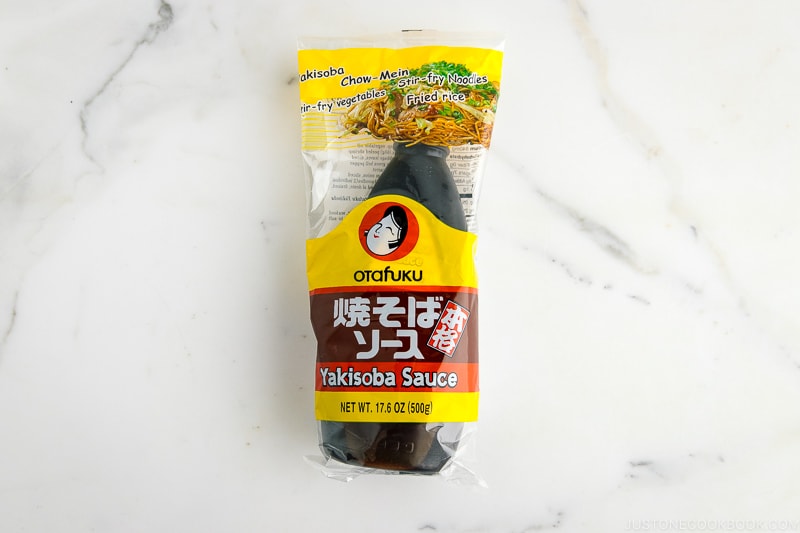 Homemade yakisoba sauce is made with common condiments from American grocery stores, such as Worcestershire sauce, ketchup, oyster sauce, and soy sauce. You can adjust the sauce as you like, so your yakisoba tastes slightly different each time.
My homemade recipe below is the exact amount needed for the ingredients below. I recommend doubling the sauce in case you end up adding more ingredients. You don't want the noodles to be bland.
Cooking Tips
1. Use a large cookware.
It's important to use a griddle, wok, or frying pan with a large cooking space so that your ingredients have direct contact with the hot surface. The nice char will add fantastic flavors and give the noodles a "street food" character.
My griddle is from Thermador and I can't find the exact model. You can use a similar griddle like this or this when making yakisoba at home. It is also fantastic for Okonomiyaki and all sorts of pancakes!
2. Cook vegetables in stages.
When it comes to any stir-fried dishes, we want to retain the fresh texture and crunch of the vegetables. So it is important to stir-fry the hard vegetables first before adding other softer ingredients. Each vegetable has a different cooking time, so cook quickly and in succession. Do not throw everything at once. Also, do not overcook as wilted veggies are a no-no for stir-fries.
3. Don't add too many ingredients.
This is after all a noodle dish. It's tempting to toss in lots of veggies or extra meat. Adding too many ingredients will end up steaming the noodles. You need to let the steam escape, so the noodles are not wet, and preferably make it as dry and crispy as possible. If you prefer drier-style noodles (I prefer mine to have some moisture), fry the noodles first, then transfer them out before cooking the vegetables and meat/ tofu. That way, you don't have to cook the noodles later on, and the noodles will still stay crispy.
4. Loosen up the noodles first.
I recommend loosening the noodles quickly before mixing with the stir-fried ingredients. This way, you can mix with the other ingredients easily. If you don't, you will most likely break up the noodles into small pieces on the griddle or wok.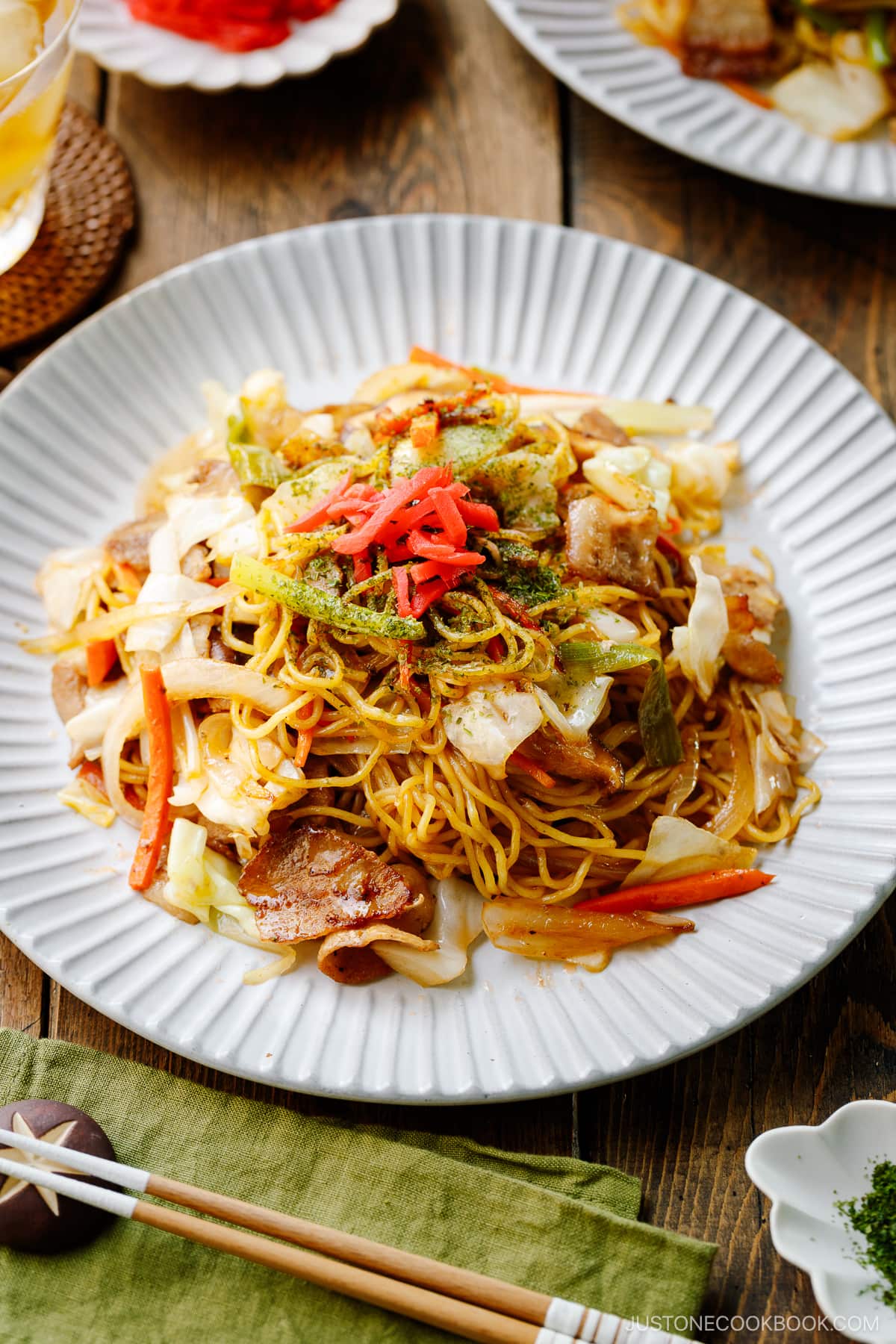 Frequently Asked Questions
Can I use ramen noodles instead of yakisoba noodles?
Yakisoba noodles are already steamed and greased. When you reheat them, the texture of the noodles will become tender.
In a pinch, you can use fresh Chinese stir-fried noodles from Asian grocery stores.
Can I make chicken yakisoba?
I get this question often as chicken is the most popular protein. However, in Japan, chicken is not the common protein choice for yakisoba, but you can certainly use it. I recommend chicken thighs rather than breasts because thighs are more flavorful and don't get dry easily.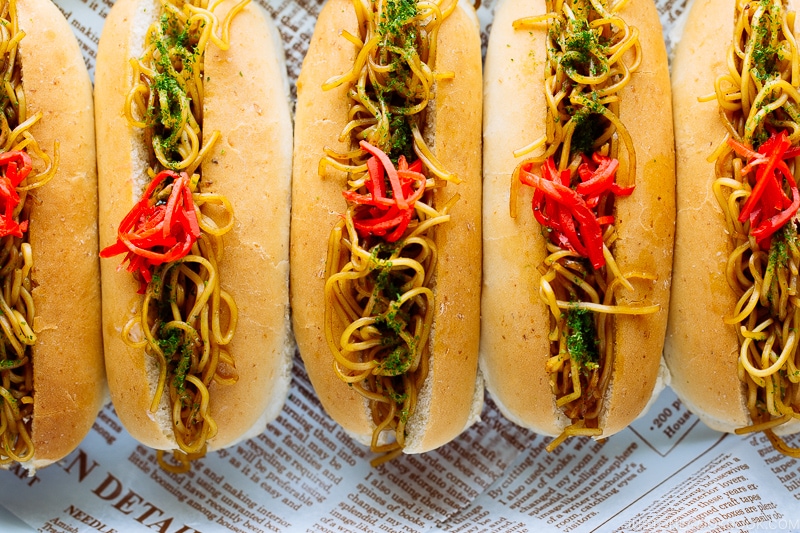 Varieties of Yakisoba
There are also a few different ways of serving stir-fried noodles:
Modern-Yaki – When the yakisoba noodles are used as a base layer ingredient for okonomiyaki, we call this savory Japanese pancake Modern-Yaki.
Yakisoba Pan or Yakisoba Dog – It's basically a hot dog bun stuffed with yakisoba!
Omusoba – Omelette stuffed with yakisoba.
Yaki Udon – Originated in the Fukuoka Prefecture, yaki udon uses thick chewy udon noodles instead of Chinese-style wheat noodles.
Okinawan-style yakisoba – Sometimes features ingredients such as Spam, chopped hot dogs, and sliced hams.
Gluten-free Yakisoba – Use glass noodles instead of wheat noodles.
More Delicious Japanese Noodle Recipes: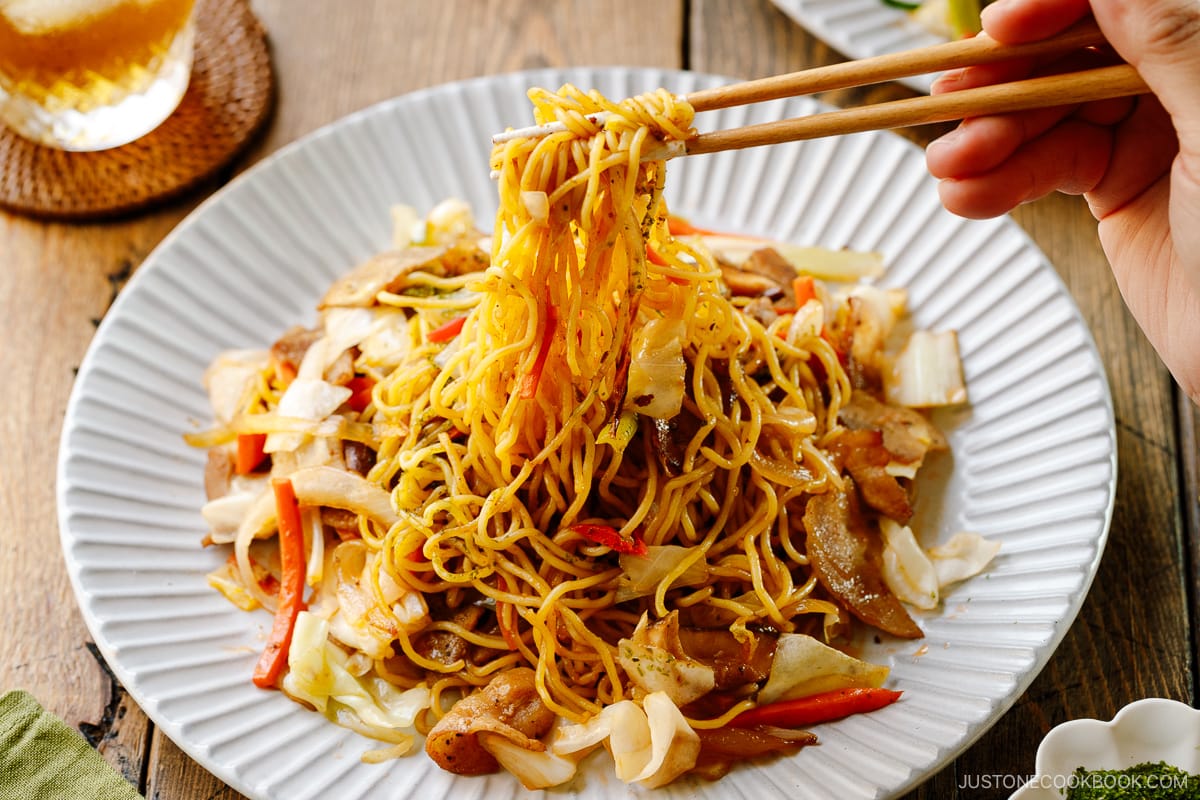 Wish to learn more about Japanese cooking? Sign up for our free newsletter to receive cooking tips & recipe updates! And stay in touch with me on Facebook, Pinterest, YouTube, and Instagram.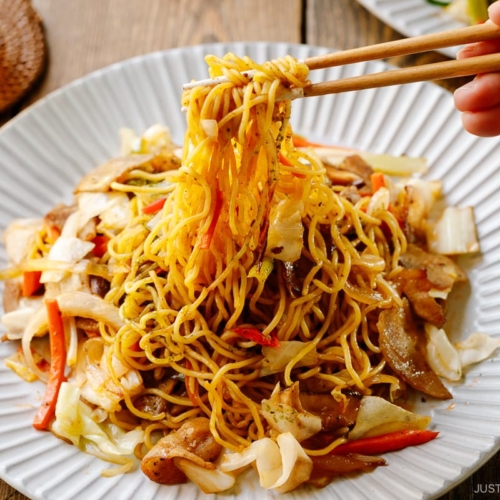 Yakisoba (Japanese Stir-Fried Noodles)
Yakisoba is a classic Japanese stir-fried noodle dish that's seasoned with a sweet and savory sauce similar to Worcestershire sauce. Use any proteins you like—pork, chicken, shrimp, or calamari. For vegetarians, just swap it with tofu or shiitake mushrooms.
Video
Ingredients
For the Yakisoba
¾

lb

sliced pork belly

(or your choice of meat/seafood/mushrooms/veggies)

½

onion

(

5

oz,

142

g)

4

inches

carrot

(

3.5

oz,

100

g)

¼

head

green cabbage

(small;

½

lb,

227

g)

2

green onions/scallions

3

shiitake mushrooms (

1.4

oz,

40

g)

2

Tbsp

neutral oil

(plus more, if needed)

3

servings

yakisoba noodles

(pre-steamed; one package contains 3 servings, 16–17 oz, 454–480 g)

freshly ground black pepper

⅓

cup

yakisoba sauce

(plus more, to taste; from the recipe above)
For the Toppings (optional)
Japanese Ingredient Substitution:
If you want substitutes for Japanese condiments and ingredients, click
here
.
Instructions
Gather all the ingredients. Freeze the pork belly slices for 10 minutes so that it's easier to cut. Tip: For the sauce, I recommend doubling the recipe, just in case. It's hard to measure the vegetables and meat precisely, and if you end up adding more ingredients, you'll need more sauce so the yakisoba is flavorful.
To Make the Sauce (yields 
⅓

 cup, 

80

 ml)
Whisk together all the ingredients for the Yakisoba Sauce: 

¼ cup Worcestershire sauce

, 

4 tsp oyster sauce

, 

4 tsp ketchup

, 

2 tsp soy sauce

, and 

2 tsp sugar

. At this point, it's important to taste the sauce and add more sugar, if needed. For example, some ketchup is sweeter than others while some Worcestershire sauce is less sour than others. Set it aside.
To Prepare the Ingredients
Remove

¾ lb sliced pork belly

from the freezer. Cut the pork belly slices into 1-inch (2.5-cm) pieces.

Cut

½ onion

into ¼-inch (6-mm) slices.

Cut

4 inches carrot

into 2-inch slabs. Then, cut them into julienne strips 2 inches (5 cm) long.

Remove the core from

¼ head green cabbage

. First, cut the cabbage wedge into slices 1 inch (2.5 cm) wide.

Then, cut the slices into bite-sized pieces.

Chop

2 green onions/scallions

into 2-inch (5-cm) pieces. Cut any thick, white parts of the green onions in half lengthwise.

Remove the stems from

3 shiitake mushrooms

. Cut the caps into ¼-inch (6-mm) slices.
To Cook the Noodles
Heat a griddle (I use a similar one; you can use a large frying pan or wok) on medium heat. When it's hot, add

2 Tbsp neutral oil

. Then, add

3 servings yakisoba noodles

. Tip: The pre-steamed noodles will come pressed together into squares. You do not need to loosen them before placing them on the griddle.

When the bottom side of the noodles is heated, flip them. The goal here is to loosen up the noodles gently without breaking them into short pieces. If you force them to separate, the noodles will break up. So be patient here.

With chopsticks, gradually loosen up the noodles. Once they have loosened up completely, transfer them to a plate.
To Cook the Yakisoba
To the hot griddle, add the pork belly slices and separate the chunks into a single layer. (If you are not using pork belly, add 1 Tbsp oil to the griddle before adding your choice of protein.) Season with

freshly ground black pepper

.

Stir-fry until the pork belly is no longer pink.

Next, add the onion slices to the griddle. Stir to cook for 1–2 minutes, separating the onion layers as you stir-fry.

Add the carrots and cook for another 1–2 minutes.

Add the cabbage and shiitake mushrooms. Cook until they are almost tender.

Lastly, add the green onions and cook for 1 minute.

Put the yakisoba noodles on top of the protein and vegetables on the griddle. Then, drizzle

⅓ cup yakisoba sauce

on the noodles. Taste the noodles and add more sauce, if desired.

With a pair of tongs, toss to combine the noodles with the sauce and other ingredients. Keep an eye on the noodles as they may stick to the skillet/wok. When the sauce is well distributed and the noodles are warmed through, transfer the yakisoba to individual plates.
To Serve
Garnish with optional

aonori (dried green laver seaweed)

and

pickled red ginger (beni shoga or kizami beni shoga)

. Serve immediately.
To Store
You can store any leftovers in an airtight container and store in the refrigerator for up to 3 days and in the freezer for a month. Thaw overnight in the refrigerator and reheat in the microwave to warm.
Nutrition
Nutrition Facts
Yakisoba (Japanese Stir-Fried Noodles)
Amount per Serving
% Daily Value*
* Percent Daily Values are based on a 2000 calorie diet.
©JustOneCookbook.com Content and photographs are copyright protected. Sharing of this recipe is both encouraged and appreciated. Copying and/or pasting full recipes to any website or social media is strictly prohibited. Please view my photo use policy
here
.
Update: The post was originally published on April 6, 2011. It's been republished with a new video, new images, and updated content on October 27, 2023.